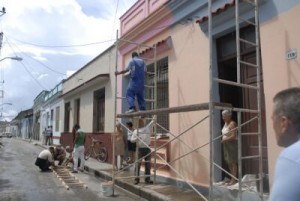 Over three thousand 800 works valued at over 23 million pesos, have been made in the municipal demarcation since late 2010 when the activities to celebrate the foundation of Sancti Spiritus initiated. The village is one of the first seven settlements that took place in Cuba.
Unmistakable Colonial-Styled Sancti Spiritus
Preamble to Half-Millennium Celebration
Sancti Spiritus, ancient and beautiful village
Nestor Borroto, director of the Provincial Group for Housing Investment, told the Cuban News Agency that a facade conservation program is being carried out in over 190 thousand households, which include patching, improving eaves, carpentry and exterior painting.
Other actions focus on the cobblestone streets in the historic center of the city, the construction works for the tourism sector, and rescuing emblematic centers as Plaza del Mercado (agricultural market) and the bodega* El Convenio.
The Camilo Cienfuegos paseo, in the northern region of the city, is subjected to a general renovation, similar to the one carried out in the Avenida de los Martires' and the Maceo Park, among other places of recreation .
More complex tasks are located in the central square Serafin Sanchez Valdivia because in the demolition process to restore the image that existed in 1914, when it was built, archaeological remains of a chapel and convent were found at the site.
Historians, archaeologists and architects agreed on the proposal of making compatible the finding at the park to make it more attractive to those who visit Sancti Spiritus, so they can know what was in the place about 300 years ago.
*Bodega is term used in Cuba to describe neighborhood stores that sell products at subsidized prices.
Translated by Escambray