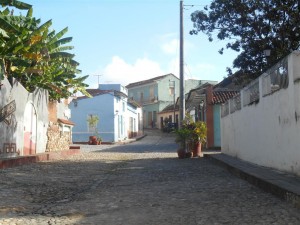 The central Cuban city of Sancti Spiritus readies to welcome an event eagerly awaited by local residents: the celebration of the 500th foundation anniversary of the narrow streets, red-clay-tile- roof houses, and unmistakable colonial-styled village.
Formerly established near Tuinucu River, the town was later on moved to the banks of Yayabo River, where residents finally settled down.
Eusebio Leal Praises Restoration Actions in Sancti Spiritus
Preamble to Half-Millenium Celebration
Sancti Spiritus, Ancient and Beautiful Village
All sorts of legends are known in this village, founded on June 4th, 1514. One of them tells about the güije –a tiny black mischievous individual–, who comes out from the waters of the river during the night. There is also the story about mysterious tunnels, and the one related to how and why former inhabitants moved away. A very well-known legend assures that a plague of ants once attacked the town, specially the babies, whose navels were eaten by the insects.
In such a context, it is quite possible that when gold was no longer present in the first of the two abovementioned rivers, Spaniards searched for a new possibility. That's why the village was moved next to Yayabo, where historians affirm they found plenty of native manpower.
Sancti Spiritus was founded by Diego Velazquez, nearly 350 kilometers east from Havana. The city features a colonial architecture where landmarks like the bridge over Yayabo River, the Mayor Church, and the Principal Theatre stand out. There are also other relevant buildings in town like the former Valle Palace, owned by one of the richest families of the region. This place, also known as the House of the Hundred Doors, was turned into the Colonial Art Museums years ago.
The historic urban center of Sancti Spiritus was declared national monument on October 10th, 1978.
STAINED GLASSES AND MURAL WORKS
Stained glasses are probably the identifying mark of this village. They are still present in many family homes, like the one where the city's first known painter Oscar Fernández Morera lived.
These glasses are so distinctive that the municipal radio station and a local cultural journal were named after them. Nevertheless, renowned Cuban artist Rita Longa called Sancti Spiritus as "The city of murals".
Indeed, some of the streets have been decorated here with mural works. They can also be found inside some institutions. Ancient mural paintings are also present in certain buildings.
Sancti Spiritus is also a city of poets, writers, painters, trios, and moonlight serenades. It is also the birthplace of Major General  Serafín Sánchez Valdivia, the so-called hero of the XIX-century three independence wars.
Now the city readies to welcome the arrival of its 500th foundation anniversary. Its major streets are filled with local residents and foreign visitors that admire the spirit of this ancient village, which has become aged, like the good wine.
(Taken from AIN, and translated by Escambray)