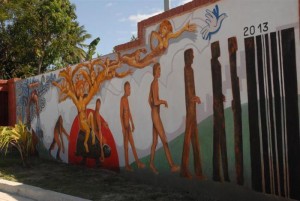 Students from the Fine Arts Academy of Ravenna, Italy, will create a mural to celebrate the 500th anniversary of this Cuban village, confirmed the Fine Arts Council of Sancti Spiritus.
The Cuban central province, declared National Monument, is also called village of the Holy Spirit, and was the fourth village founded by the Spanish in 1514.
The initiative is promoted by the Cuba-Italy Association of Friendship and the Italian artist Rodolfo Dalpane.
Jorge Luis Lopez, president of the Council, said that at the beginning of 2014 students from the Academy of Ravenna will arrive in Cuba to create an allegoric mural representing traditions, history and development of Sancti Spiritus.
Since 2010 many cultural exchanges have taken place among artists from Sancti Spiritus and the Academy of Ravenna.
The first work of the Italian students took place at Jose Marti University and it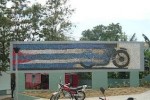 was dedicated to Ernesto Che Guevara and his motorcycle, which was used by him to make the famous tour throughout South America.
Last year, a delegation from Sancti Spiritus traveled to Italy and created a thematic mural dedicated to Endrigo Boldrini, an Italian social fighter, and to commander Ernesto Che Guevara.