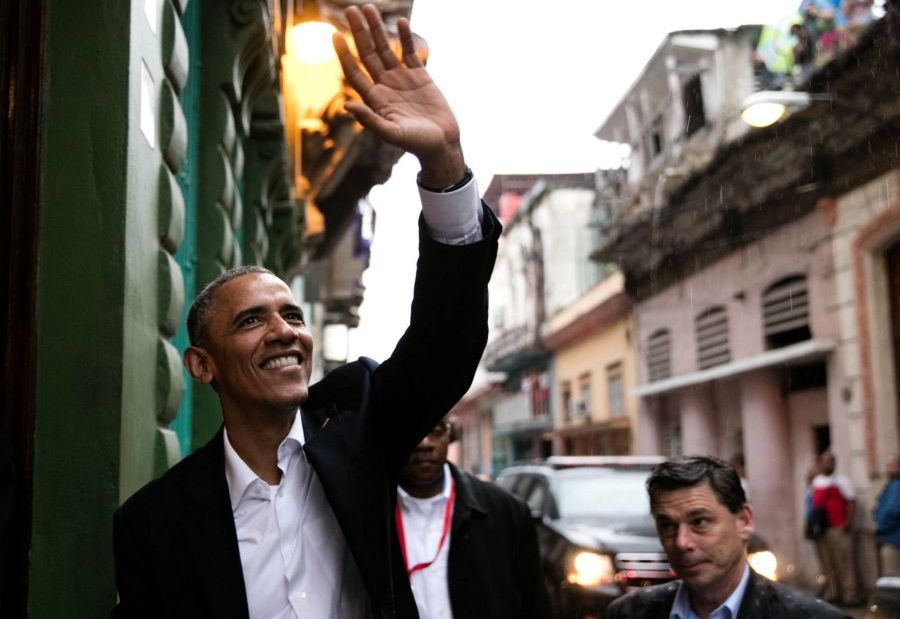 U.S. President. Barack Obama recent official visit to Cuba is regarded as a step forward in the development of bilateral relations.
After complying with a busy agenda of activities in Havana, Obama was bid farewell this Tuesday at the Jose Marti International Airport by Cuban President, Raul Castro, with which he concluded his historic visit to the Caribbean nation, the second one by a U.S. president after that carried out in 1928 by Calvin Coolidge.
Barack Obama and First Family Visit to Cuba
Raul Castro Bids Farewell to Barack Obama after Historic Visit to Cuba
In consonance with the process towards the normalization of ties started on Decemeber 17, 2014, Obama arrived on Sunday, Marrch 20, with his family and a group of 40 members of Congress, and toured the Old Havana historic places. On Tuesday, Marchr 22, the Head of State paid tribute to Cuba's National Hero, Jose Marti, at the sculptural complex honoring the hero at the Revolution Square in Havana, and held official talks with his peer, Raul Castro.
During the meeting, the two statesmen talked about areas of mutual interest in which both nations can make progress despite differences.
After that meeting, they gave statements to the national and international press, in which the Cuban leader expressed the shared will to advance in the art of civilized coexistence, to promote ties for the benefit of their respective countries and peoples.
He also urged to "focus on what approaches us and not in what separates us." He highlighted steps forward in the process of restoring normal relations.
For his part, Obama acknowledged Cuba's "special" achievements in sectors such as health and education, while reaffirming some steps taken by his administration to advance ties with the island.
This, despite the economic, commercial and financial blockade Washington has imposed on the Caribbean nation for more than 50 years ago is still standing, is identified by Cuba as the main obstacle for the full normalization of ties.
After his meeting with Raul Castro, the head of the White House participated at a business forum held by businessmen and entrepreneurs from the two countries, which stressed that the Cuban economy is changing and the United States is willing to accompany this process.
Obama's last day in Cuba was marked by a speech in front of a representation of the Cuban civil society at the Alicia Alonso Gran Teatro in Havana and attended, along with Raul Castro, a friendly baseball match between the Cuban national team and the MLB American League representative, Tampa Bay Rays.
Also in the presence of Raul Castro, Obama shared his vision of the new scenarios that are opened in the relationship of the two nations, whose peoples, he said, have shared values beyond their differences, besides being united by historical and cultural ties.