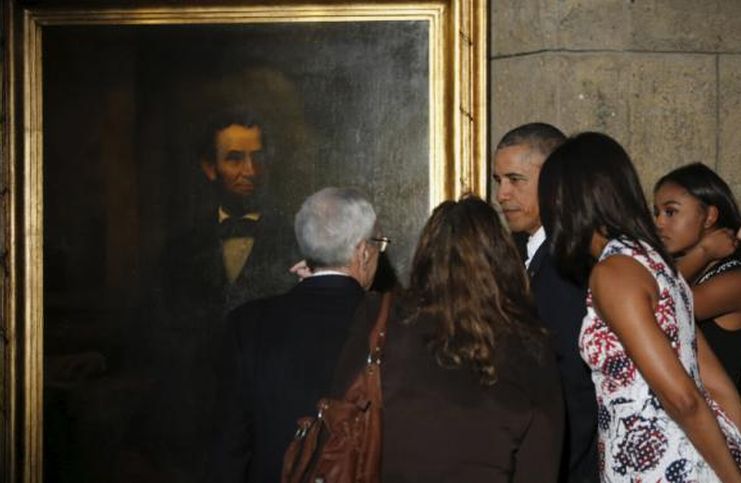 Under a persistent light rain, U.S. President Barack Obama today visited the historical center of Havana, declared World Heritage by UNESCO in 1982.
Accompanied by his wife, and two daughters Malia and Sasha, Obama began his tour of Havana at Plaza de Armas (Arms Square), guided by Havana City's Historian Eusebio Leal, who leads a comprehensive and sustainable restoration project of the Historical Center.
Barack Obama in Cuba (photo gallery)
Obama Posts Funny Greeting upon Arrival
Plaza de Armas (Arms Square) is the point where the city was founded in 1519, and it was made similar to the fortified squares in the Medieval Europe.
The headquarters of the civil and military authorities of the colonial period and the parish church are in the surroundings of the Arms Square.
Obama entered in one of those buildings, The Palace of the General Captains, once the military government headquarters when Cuba was colony of Spain and now the Museum of the City, also considered the most important architectonic building of the Baroque development in Cuba.
There, the president made a stop to watch a portrait of Abraham Lincoln, the sixteenth president of the United States and one of the most recognized in history for his actions in favor of the abolition of slavery in his country, as well as for his role in keeping his country united during the Civil War (1861-1865).
The head of State also visited the Havana Cathedral, a very valuable architectonic, religious, and cultural temple, headquarters of the archdioceses of the Catholic Church in the city. At the entrance of the emblematic construction, Obama was welcomed by the cardinal and archbishop of that entity, Jaime Ortega, and warmly greeted by Havana residents who awaited for his arrival.
Obama arrived in Cuba on Sunday afternoon for a three-day historical visit, the first one of a president of his country in 90 years.
The U.S. president was welcomed at Jose Marti International Airport by Foreign Minister Bruno Rodriguez, and other Cuban and US authorities.