"Qué Bolá Cuba?'" was the greeting posted on Twitter by the US President, Barack Obama, after arriving in this capital for a three-day visit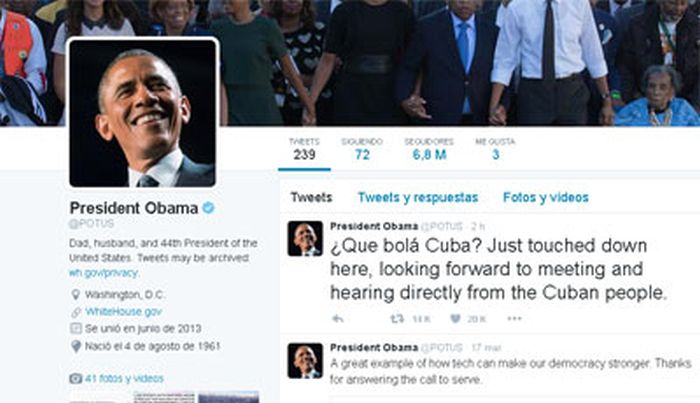 The president used a phrase of Cuban popular slang used to ask someone how he is, as he did in a telephone conversation with a humorist of the Caribbean island published yesterday.
In a sketch that has become viral video on social networks, Obama talks with Panfilo, main character of the TV series Vivir del Cuento, considered one of the most watched programs on national television.
Thousands of users of social networks replicate the audiovisual material and highlight the phrase used by the president.
The head of state greets in Twitter by writing: Qué Bolá, and then explains in English he came in order to know the country directly through the Cuban people.
Upon his arrival at Jose Marti International Airport in this capital, Obama was received under a light rain by Cuban Foreign Minister Bruno Rodriguez and officials from U.S. and the host country.
The visit is part of the process of rapprochement between Havana and Washington started on December 17, 2014, when President Raul Castro and Obama announced the decision to restore diplomatic relations after more than 50 years of break.
This is the first time here of an American president in 88 years, after the trip made in 1928 by Calvin Coolidge.