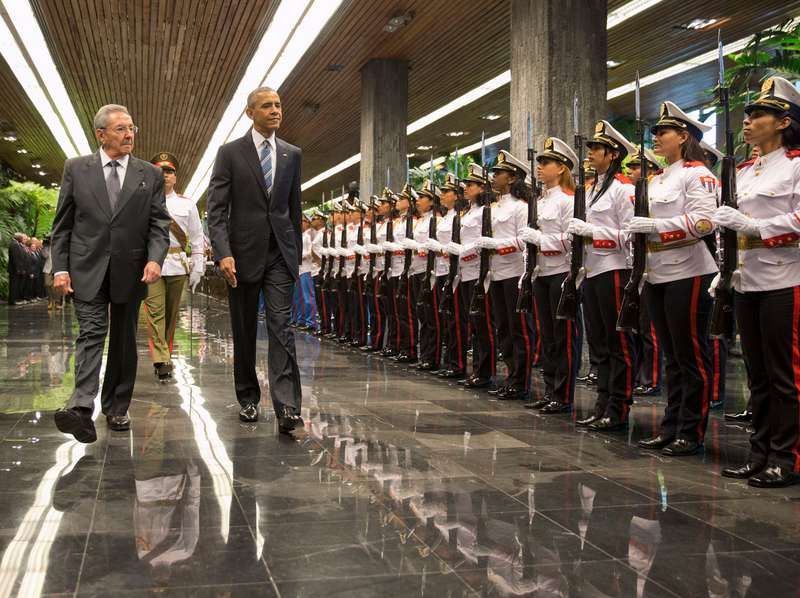 President Raul Castro officially received his US counterpart Barack Obama at the Revolution Palace in Havana and both leaders held official talks.
After the ceremony, Raul and Obama greeted the members of both delegations before starting their talks, that will end with statements to the press that gathers at the site.
Barack Obama Honors Cuban National Hero Jose Marti
U.S. President Barack Obama Tours Havana's Historical Center (+photos)
US President Barack Obama in Cuba (photo gallery)
On the Cuban side, among others, were First VP Miguel Diaz-Canel, Foreign Minister Bruno Rodriguez, and several other members of the cabinet.
On the US side were John Kerry and Panny Pritzker, Secretaries of State and Commerce, respectively, and other
members of the government.
According to the agenda, before traveling to Argentina tomorrow, Obama will deliver a speech at the Alicia Alonso Gran Teatro in Havana and attend a baseball match between the Cuban team and the Tampa Bay Rays.
After arriving in yesterday at the Jose Marti International Airport in Havana, the visiting president toured the historic center of this city, declared a World Heritage site by UNESCO in 1982.
Under a persistent drizzle, which accompanied him since the arrival of Air Force One airplane, the U.S. president began his tour at Havana's Plaza de Armas, guided by Havana City Historian, Eusebio Leal.
He was also interested in other buildings of historical importance, such as the Palacio de los Capitanes Generales, the seat of government during the colonial era.
As part of the tour the U.S. head of State did along with his wife, Michelle Obama, and daughters, Malia and Sasha, visited the Havana Cathedral, a temple of great architectural, religious and cultural value, headquarters of the archdioceses of the Catholic Church in the city.
Obama's visit to the Caribbean nation is an important moment of the process that began on December 17, 2014, when Presidents Obama and Raul Castro announced the decision to restore diplomatic relations, interrupted for more than 50 years.
The two heads of State held official meetings during the 7th Summit of the Americas in Panama and the United Nations headquarters, in April and September 2015, respectively.
The two countries resumed diplomatic relations on July 20, 2015 and their interest sections became embassies.