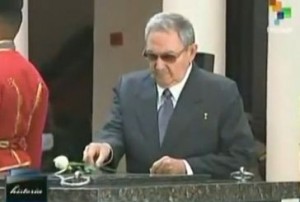 Cuban President Raul Castro today paid tribute to Comandante Hugo Chavez at the Mountain Barracks, in Caracas's 23 de Enero neighborhood, on the occasion of the first anniversary of his death.
The Cuban statesman laid a white rose on the coffin where the Venezuelan revolutionary leader's remains rest.
Nicolas Maduro: Chavez is a Timeless Leader
Venezuelan Defense Minister Highlights Civic-Military Unity
Hugo Chavez Remembered in Cuba
Venezuelan President Calls People to Honor Chavez in Peace
The Cuban head of state also attended the solemn ceremony of changing of the guard that permanently accompanies Chavez in that place.
Raul Castro arrived in Venezuela today, to participate in the activities on occasion of the first anniversary of Chavez death. Today's agenda also includes a civic-military parade at Paseo de los Proceres (National Heroes' Promenade) in Caracas, bringing together representatives of social movements and the Bolivarian National Armed Forces (FANB) of Venezuela.
A demonstration of defensive military techniques and FANB troops was offered to those present, both Venezuelan and foreign, united by the common interest of paying tribute to the revolutionary leader.
On March 5, 2013 at 16:25 local time, the then Vice Executive President Nicolas Maduro informed the country that Chavez had passed away at the Caracas Military Hospital.