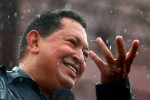 Venezuelan President Nicolas Maduro appreciated today the true value of late President of the Bolivarian Revolution Hugo Chavez" work, calling him a timeless leader.
He is a child, a young man, an adult, soldier and commander, said Maduro's Twitter post, as a tribute to Chavez on the first anniversary of his death. He was also brother, father, but he represents, above all, the homeland, he said.
In a message, he highlighted Chavez's leadership, his mark on new generations, which Maduro called to continue the revolutionary process.
"From the moment we came to know him, we accompanied him along the paths of the Revolution and he was always loyal to the country's history and the people," said Maduro.
He also highlighted Chavez's legacy in terms of civic-military unity and in rescuing the ideas of Simon Bolivar, the Liberator (17783-1830).
Deceased on March 5, 2013, after struggling against cancer for a number of months, Chavez changed the Venezuelan nation drastically since assuming power in 1999, with marked repercussions on society and benefits for low-income people, analysts said.
A civic-military parade, with an exhibition of defensive armaments, as well as an homage at the Mountain Barracks, where Chavez remains lie, are part of the tribute, being attended by a number of presidents from the region.