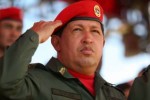 President Nicolas Maduro invited all Venezuelan citizens to take part on events to commemorate a year of the death of Bolivarian Revolution leader Hugo Chavez, this March 5th.
At a message posted to his Twitter profile @NicolasMaduro, the Venezuelan President called on the "population to homage him in Peace and with Love."
Among those events, he informed about the civic-military parade to take place at 10:00 o'clock, to honor the Revolution's Supreme Commander.
Similarly, he recalled about the documentary "Hugo, My Friend", by US film maker Oliver Stone.
Posting a picture of the revolutionary leader, president Maduro recalled that Hugo Chavez "became history as vindicator of (Simon) Bolivar. He made him people, present and future of the homeland."