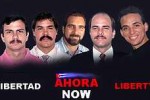 The International Committee to Free the Cuban Five are calling Cuba's friends around the world to attend events to call attention to the case that starts today in Washington DC.
The Third Campaign "Five Days for the Cuban Five," organized by that group, aims to increase political pressure for a definitive resolution to the case of the Cubans being held prisoner in the United States. Three of the original five, Gerardo Hernandez, Ramon Labañino and Antonio Guerrero, still remain in federal prisons here.
A bulletin issued by the committee called for simultaneous actions in other parts of the world, including, "sit-ins, rallies, speeches, exhibitions, worldwide message actions through Twitter, media articles, and social networking" to be performed from today through June 11.
So far, simultaneous actions have been confirmed in more than 40 countries, according to sources consulted by Prensa Latina.
This event takes place three months after a Commission of Inquiry on the case of The Five, held in early March in London. That commission and this week's events in the nation's capital are the main actions for this cause so far in 2014.
Of the five, only Rene Gonzalez and Fernando Gonzalez, have been released from prison, after completing their disproportionate sentences of 15 years and 17 years plus nine months, respectively.
Related articles across the web