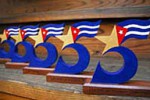 The Women's International Democratic Federation (WIDF) celebrates a day of solidarity in Moscow, with the three Cuban antiterrorist fighters who are still unjustly held in US prisons.
Ramon Labañino, Gerardo Hernandez and Antonio Guerrero, along with Rene Gonzalez and Fernando Gonzalez, monitored in U.S. soil plans by extremist groups against the island. The two latter already returned to Cuba after completing more than 15 years in prison.
Gathered from this Monday to May 2 in Moscow, the WIDF directive board will also pay attention to the solidarity with Venezuela and Vietnam, and the end of the U.S. military interference in the Korean peninsula, according to the organizing committee.
The forum started with meetings of the regional offices, which debated the situation of women in the corresponding areas.
Representatives of female organizations from Colombia, Cuba, Ecuador, Mexico, and Venezuela are also participating.
Guennadi Ziuganov, president of the Communist Party of the Russian Federation, will carry out a special participation on April 30, sources of the political organization, the second of larger representation at the State Duma (Lower House of Russian Parliament), told Prensa Latina.