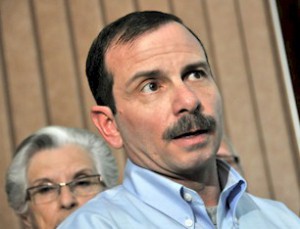 Fernando said that world solidarity must continue pushing for Gerardo, Fernando, and Antonio to be released and returned to Cuba as soon as possible.
Fernando Gonzalez, the Cuban who fought terrorist plots hatched from the United States against his country, made an urgent call for the immediate liberation of his fellow fighters still held prisoner in the United States, a punishment he said was meant as vengeance for Cuba revolutionary process.
"From the very beginning of this process we were conscious that we were being made to pay for being revolutionary Cubans," said Gonzalez, in reference to the case that has become known internationally as the case of the Cuban Five.
Fernando Gonzalez, Rene Gonzalez, Gerardo Hernandez, Ramon Labañino, and Antonio Guerrero were the five Cubans put on trial in Miami in 2001. The latter three remain incarcerated, while Fernando Gonzalez and Rene Gonzalez (no relation) are back in Cuba after having completed long sentences.
"We were punished for having worked on behalf of the Cuban people, on behalf of the Cuban revolution, and even for working for the U.S. people, since we thwarted terrorist actions that might have harmed them," said Gonzalez, in an interview posted at the Cubadebate website.
Regarding his return to Cuba, Gonzalez said he felt free "and not just as a result of having been released from prison. I have the freedom that I was denied in the United States. Here I have the freedom to do what I want, including political freedom."
He said that in the United States, there is no freedom of thought, because there are so many mechanisms to control and manipulate people's consciences.
"After they chained me at the hands, waist and feet, they took me out of the Safford (Arizona – federal) prison. Presumably I was free, but there and then, at the door, I was re-arrested by immigration authorities."
He recalled that he was taken to Phoenix in a highly reinforced convoy, and later to Miami. The operation lasted some 36 hours.
"I was always handcuffed, and in the middle of this huge security operation that was a surprise to me. I was even handcuffed in the plane that brought me to Cuba, albeit with plastic cuffs, which were cut when the plane opened its door at Havana's Jose Marti airport. Only then did I feel free," he said.
Gonzalez said he was grateful for the international support for the Five and urged a continuation of the struggle to free Gerardo (condemned to two life sentences plus 15 years), Ramon (30 years) and Antonio (21 years and 10 months. "Our friends in solidarity throughout the world must continue pushing for the three to be released and returned to Cuba as soon as possible," he stressed.