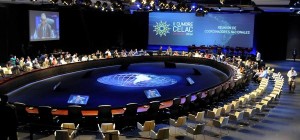 At least 20 special declarations are expected to be approved Sunday by national coordinators of the Community of Latin American and Caribbean States (CELAC), Cuban Deputy Foreign Minister Abelarado Moreno revealed.
Those documents deal with several topics to be discussed in the meeting of foreign ministers on Jan. 27 and in the summit of heads of state and government on Jan. 28-29, he explained.
Evo Morales Highlights Role of CELAC
Brazil President Arrives in Cuba
UN Secretary General to Arrive in Cuba for CELAC Summit
The meeting of coordinators started yesterday, when they endorsed the declaration of the region as a peace area, which has been described as a milestone in this summit, as in this way CELAC is backing international law, with Latin America and the Caribbean committing themselves to rule out the use of force.
Another document described as of great significance was also agreed in order to form the CELAC-China forum, said Moreno.
The experts reached consensus about several items of the Action Plan of CELAC for 2014, including food security, education, science, technology and innovation, among others.
According to Moreno, an atmosphere of understanding prevails in the meeting, thus favoring progress in the preparation of documents for the Second Summit of CELAC.
The closed-door deliberations are marked by their speed, generating confidence in Cuban authorities that key documents will be approved on time, including the Declaration of Havana, Deputy Foreign Minister Rogelio Sierra said.
Cuba assumed the pro tempore presidency of CELAC last year in Santiago de Chile during the First Summit of CELAC, established in Caracas in 2011.
Cuba will hand over the presidency to Costa Rica.