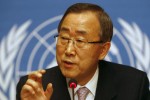 UN Secretary General Ban Ki-moon is scheduled to travel this Sunday to Havana to attend the second summit of presidents of the Community of Latin American and Caribbean States (CELAC) set for next Tuesday.
Ban will take advantage of the presence of CELAC heads of state and government in Cuba to hold bilateral meetings with regional leaders.
He will also hold talks with many Cuban governmental authorities, UN spokesman Farhan Haq released in a press conference on Friday.
Ban knew closely about the work of Cuba as pro tempore president of CELAC when he held talks with Cuban Foreign Minister Bruno Rodriguez in early October during high-level debate of the General Assembly.
Some 30 agreements are expected to be reached during the CELAC summit in Cuba as guidelines of future work of the bloc, which represents some 600 million people.