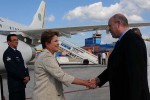 Brazilian President Dilma Rousseff arrived in Havana at three o'clock, local time, to attend the Second Summit of the Community of Latin American and Caribbean States (CELAC), to take place next January 28-29.
The head of state was welcomed at Jose Marti International Airport by Rodrigo Malmierca, minister of foreign trade and investments.
According to sources from the brazilian chancellorship, Rousseff, who will also pay an official visit to our country, will take part Monday in the inauguration of the first stage of the container terminal, at Mariel Special Development Zone.
(Translated by Escambray)