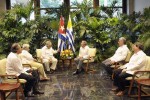 Jose Mujica, president of the Republic of Uruguay held a meeting with Fidel, and was officially welcomed by Cuba President Raul Castro.
President of Uruguay Jose Mujica Cordano visited in this capital the historical leader of the Cuban Revolution, Fidel Castro, Granma newspaper reported.
During the emotional encounter yesterday night, also attended by Senator Lucia Topolansky, wife of the distinguished visitor, Fidel Castro and Mujica evoked some moments of the revolutionary struggle in both countries, and exchanged views about the challenges facing the region and the world at large, such as food security, climate change, and the preservation of peace.
Mujica, who is on a state visit to Cuba, expressed his gratitude to the island's authorities for what he described as an example of solidarity, and for this exchange with the Cuban people on the 60th anniversary of the Moncada feat.
Mujica was also received yesterday by Army General Raul Castro Ruz, president of the councils of state and ministers, with whom he discussed the good state of bilateral relations in the political, diplomatic, commercial, and cooperation fields. They also discussed other regional and international issues.
The meeting was also attended by Lucia Topolansky, Uruguayan Minister of Foreign Affairs Luis Leonardo Almagro Lemes, Cuban First Vice President Miguel Diaz-Canel Bermudez, and Bruno Rodriguez Parrilla, Cuban minister of Foreign Affairs.