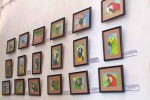 Antonio Guerrero's Birds of America, and one caricature exhibition by Gerardo Hernandez will be open to the public for one whole month at the local Casa de la Guayabera.
Exhibitions by Antonio Guerrero and Gerardo Hernandez will be opened March 5th at Sancti Spiritus's Casa de la Guayabera (House of the Guayabera), within the framework of the international campaign that is held that day every month to demand the immediate return of the Cuban Five to the island.
Sources from the Provincial Delegation of the Cuban Institute of Friendship with the Peoples (ICAP) told Escambray that the inauguration ceremony will be attended by members of the International Committee for the Freedom of the Five, and the local Committee of Mothers for the Freedom of The Five.
Both exhibitions will be open to the public for one whole month at the Casa de la Guayabera, where guayabera shirts from both Antonio and Gerardo are kept since last year.
Antonio Guerrero's exhibition, which was conceived as a joint project with the National Museum of Natural History, reflects his Latin American spirit when painting birds from several countries of the area.
After a highly politicised judicial process, the Five were convicted by a Miami Federal Court to long-term sentences, including double life imprisonment.