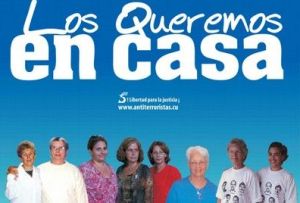 Writing to US university students and professors is priority task.
Sancti Spiritus's Committee of Mothers for the Freedom of The Five has so far undertaken different actions in this respect like sending letter to US universities, holding meetings with members of the local Five Circle, fostering the creation of new solidarity committees, and helping students get to know more about the five antiterrorist fighters.
This committee, which was founded one year ago, has promoted the creation of similar groups in institutions such as the Jose Marti University. This higher education center was the venue of a recent encounter with Chilean professionals who were attending a post-graduate course. The visitors were updated on the case of Gerardo Hernández, Ramón Labañino, Fernando González, Antonio Guerrero and René González.
In order to prevent terrorist actions against Cuba, Gerardo, Antonio, Ramón, Fernando, and René, went to the U.S.A. in the 1990s, where they managed to penetrate the Cuban American National Foundation, and Alpha 66, among other organizations hostile to the Cuban Revolution.