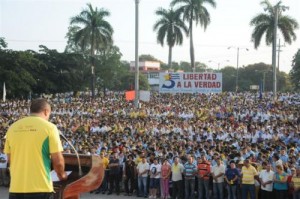 With a yellow-dressed plaza, thousands in Sancti Spiritus demanded this morning,  in the Serafin Sanchez Valdivia Revolution Square,  the release of the Cuban Five, precisely this September 12, the 15th anniversary of the imprisonment of Ramon, Gerardo, Antonio and Fernando.
Message from the Five to the World and the American People
Raul Castro Attends Gala for the Cuban Five
Rally for the Freedom of the Five Starts in Sancti Spiritus
Sancti Spiritus will Ask Obama to Grant Pardon to the Five Sancti
In the massive gathering, Cuban and foreign students who study in the province claimed the prompt return to the homeland of the four fighters against terrorism.
"It is time that the Cuban Five of just cause are released. Let's get to the American people and the world the truth of the case", urged Abdalahe Mohamed Chej, a native of Western Sahara who is in the fifth year of Medicine and is chairman of the Provincial Committee for the Freedom of the Cuban Five.
Every speech had an unanimous demand in the meeting and music also became a support for this cause with songs such as Tie a yellow ribbon to the old oak tree, with exclusive arrangements for this occasion made ​​by the Provincial Concert Band and the Imago group, which performed this version.
Repentistas (improviser of oral verse) of the territory focused their work on the Five, and The Lamas, iconic group in Sancti Spiritus, closed this gathering with El Necio, a theme that has become a song of victory and a symbol of the struggle of these men.
The open tribune of the Revolution was led by Jose Ramon Monteagudo Ruiz, first secretary of the Provincial Party Committee in the territory and other leaders of the different political and mass organizations.
[nggallery id=77]