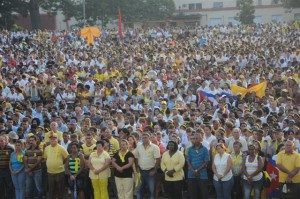 It's  seven o'clock in the morning and Sancti Spiritus cries out, once more, for the freedom of the five Cuban antiterrorists who have been unfairly kept in US prisons for 15 years now.
Thousand local residents have gathered at Serafin Sanchez Valdivia Revolution Square to demand the return of Gerardo Hernández, Antonio Guerrero, Ramón Labañino, and Fernando González, and to ask US President Barack Obama to grand pardon for the antiterrorist fighters.
Yellow ribbons, as requested by Rene Gonzalez last September 3rd, have filled the city and the square, where the song Tie a yellow ribbon round the ole oak tree will be performed by local bands.
For several days, other solidarity actions have been taking place in this territory, such as community circles and lectures, sport and cultural activities, the presentation of the book The last soldiers of the cold war, by Brazilian writer and journalist Fernando Morais, as well as other initiatives in workplaces and educational institutions.
The international campaign for the Cuban Five will run until next October 6th. That day, Trinidad will be the venue of a meeting with victims of terrorism's relatives.