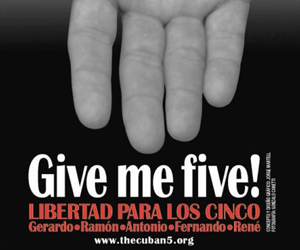 Thousands in Sancti Spiritus, gathered this September 12th in the Serafin Sanchez Valdivia Revolution Square, will demand Obama to free Gerardo Hernandez, Ramon Labañino, Antonio Guerrero and Fernando Gonzalez , imprisoned for 15 years in U.S.
Sancti Spiritus: Five Days for the Freedom of the Cuban Five
Sancti Spiritus: Yellow Ribbons to Demand the Return of the Five to Cuba
Given the low probability of achieving by legal means the return of the Five to Cuba, the use of this presidential prerogative is the possible variant, experts on the case and the International Committee for the Freedom of the Cuban antiterrorists have reiterated.
After serving his sentence of 15 years in prison and part of his supervised release, Rene Gonzalez Schewerert, the fifth of the Five, remains in Cuba after renouncing to his U.S. citizenship, a condition imposed by Judge Joan Lenard, of the Federal Court of Miami, Florida, which does not allow him to return to the northern nation.
Sources in the provincial delegation of the Cuban Institute of Friendship with the Peoples (ICAP) stated that the rally to demand the release of the Five, which will be colored by yellow ribbons, is scheduled for 7:00 am in Sancti Spiritus city.
Last week, in a televised speech,  Gonzalez Schewerert urged Cubans on this September 12 – 15th anniversary of the arrest of the Five – to place yellow ribbons on trees, on balconies … or wear them on the body .
This idea, derived from a tradition born in the United States, seeks to draw attention of the American people , as most of them do not know the injustice committed against the Five, due to the silence of the great information transnationals on the case .
Agents of the Federal Bureau of Investigation took the Five as prisoners in 1998. At the moment they were monitoring the actions of organizations and groups based in Florida , responsible for countless acts of terrorism against Cuba .