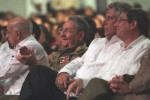 Cuba's President Raul Castro attended a cultural event paying tribute to the five Cuban antiterrorist fighters arrested 15 years ago in the United States, where they fought to thwart terrorist actions against the island.
The show "Les doy una cancion como doy el amor" (I give you a song as I give love), held yesterday night, convened artists of several genres, from Silvio Rodriguez' trova to guaguanco with the Banrarra Rumba folk company.
In addition of the Cuban president, personalities from many fields attended the event, and the only one of the five antiterrorist fighters who was already released from prison and returned to Cuba, Rene Gonzalez.
After completing 13 years in prison and a period of supervised release, Gonzalez returned to Cuba and he works from here for the release of their compatriots Antonio Guerrero, Ramon Labañino, Gerardo Hernandez, and Fernando Gonzalez.
The Karl Marx theater in Havana was the stage in which Cuban artists supported the cause for the freedom of those who are known as the Five in international campaigns for their release.