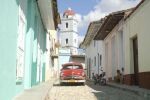 After several decades covered by asphalt, Sancti Spiritus's Guairo and Padre Quintero Streets were returned to their original cobblestone condition. But the last stone is yet to be placed, since the remodelling works will reach other streets of the so-called Historic Area of the city.
---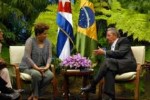 Cuba President Raul Castro and his Brazilian counterpart Dilma Rousseff highlighted today the implementation of the Community of Latin American and Caribbean States (CELAC) as a means to confront the challenges these countries are faced with.
---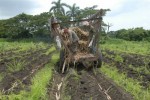 Around 150 legal experts will analyze on Friday and Saturday, February 3-4, the Cuban national agrarian legislation in tune with the new guidelines of the Cuban Communist Party.
---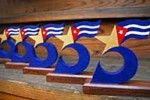 The solidarity-with-Cuba group of Port de Paix, to the northeast of Haiti, agreed to intensify actions for the release of the five Cuban anti-terrorist fighters condemned to harsh sentences by the U.S.
---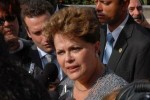 Cuban President, Raul Castro is expected to hold official talks on Tuesday with visiting Brazilian head of state, Dilma Rousseff, who arrived yesterday in Havana. The heads of state are set to review the state of traditionally friendly relations between both Latin American nations, during their meeting at Havana's Palace of the Revolution.
---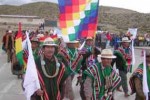 Bolivian President Evo Morales will meet on Tuesday in Cochabamba with mayors of the country's 327 municipalities to analyze the execution of many social programs.
---
Sancti Spiritus's Provincial Ophthalmology Center has proved to be very efficient since it was first opened less than five years ago. Just to give an example, over 40 000 local patients were diagnosed in the institution's outpatient clinics in 2011.
---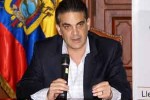 The Ecuadorian Vice Minister of Trade and Economic Integration, Francisco Rivadeneira, highlighted Monday the good political relations with Cuba and the possibility of increasing commercial links.
---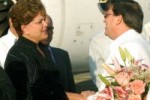 Brazilian President Dilma Rousseff arrived in Cuba on Monday for an official visit aimed at further strengthening bilateral relations between Brasilia and Havana. President Roussef was welcomed at Havana´s Jose Marti International Airport by Cuban Foreign Minister Bruno Rodriguez.
---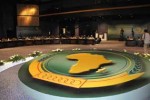 The Summit of Heads of State and Government of the African Union (AU), which is concerned about resolving conflicts such as the one in northern Mali and analyzes intra-African trade, continues working on Monday with the election of its Committee chairman.
---