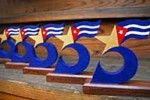 The solidarity-with-Cuba group of Port de Paix, to the northeast of Haiti, agreed to intensify actions for the release of the five Cuban anti-terrorist fighters condemned to harsh sentences by the U.S.
Leaders of the organization announced the stance in a meeting with Cuban ambassador to Haiti Ricardo Garcia Napoles, who offered an update on the current situation of the Cuban Five, Prensa Latina reported.
Rene Gonzalez, Gerardo Hernandez, Ramon Labañino, Antonio Guerrero and Fernando Gonzalez were arrested in 1998 while they infiltrated Miami-based anti-Cuba groups that organized and conducted terrorist acts to overthrow the Cuban government.
Rene Gonzalez who served a 15-year term continues to be subjected to an additional punishment under which he is forced to stay in the U.S. for three years on probation.
In the meeting with the Cuban ambassador, the president of the solidarity-with-Cuba group Philias Carlil thanked the diplomat for the aid offered by a medical brigade working in the neighboring nation for 13 years, which has remained in the country even under adverse conditions like a recent cholera outbreak. (Taken from ACN).