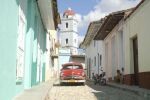 After several decades covered by asphalt, Sancti Spiritus's Guairo and Padre Quintero Streets were returned to their original cobblestone condition. But the last stone is yet to be placed, since the remodelling works will reach other streets of the so-called Historic Area of the city.
According to Roberto Vitlloch, who runs the Office of Monuments in the province, the existing cobbled streets will be all worked upon, and studies are already on the way to determine other possible similar undertakings.
Recovering the original cobble road over the Yayabo River is a long-term aspiration, added the expert. But this aim depends on more complex decisions like the construction of a new road for the cars to get into the city, he concluded.
These attempts are aimed at the 500th foundation anniversary of the village and at its possible inclusion in the tentative list to be submitted to UNESCO in order to apply for the Cultural Heritage Site title.