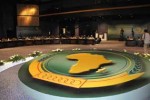 The Summit of Heads of State and Government of the African Union (AU), which is concerned about resolving conflicts such as the one in northern Mali and analyzes intra-African trade, continues working on Monday with the election of its Committee chairman.
Representatives of 53 nations that make up the AU will elect the chairman of its Committee between two candidates: AU Outgoing President Jean Ping and Incumbent South African Minister of the Interior Nkozasana Dlamini Zuma.
Angola, through the minister of Foreign Affairs, George Chicoty, reiterated the need to strengthen the continental body by implementing a new dynamics and vision, and united ideas.
At the opening session of the meeting, Ping condemned the rebellion in northern Mali.
He considered these armed actions as unjustifiable because, he noted, threaten peace and stability in the subregion of West Africa.
He also stated that the AU and its partners are making efforts to achieve peace in Mali and the social reintegration of Libyan migrants who left the country during the recent crisis in that state of the Maghreb, battered by NATO airstrikes.
Peace-related issues dominates the African agenda as the continent's subregions are plagued by armed ethnic and religious conflicts, the Angolan representative at the AU, Arcanjo Maria do Nascimento, said recently.
He added that the AU clears the way for the promotion of African trade, by creating a free trade area, which will result in greater collective development.  (Taken from PL).