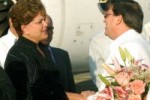 Brazilian President Dilma Rousseff arrived in Cuba on Monday for an official visit aimed at further strengthening bilateral relations between Brasilia and Havana. President Roussef was welcomed at Havana´s Jose Marti International Airport by Cuban Foreign Minister Bruno Rodriguez.The Brazilian head of state is scheduled to meet with Cuban President Raul Castro and pay homage to National Hero Jose Marti.
Rousseff will wind up her visit to Havana on Wednesday and will head for Haiti.
Brazil, Cuba´s second major commercial partner in Latin America after Venezuela, is participating in remodeling works at the western Cuban harbor of Mariel. Brazil is also contributing technology and expertise to a local corn and soy production project.
More than 600 Brazilian youths have graduated from Cuban universities since 1961. At present nearly 700 Brazilians are taking education courses on the island.
Cuba and Brazil established diplomatic relations in 1943, such links were strengthened during the government led by Luiz Inacio Lula da Silva.
In a recent release, the Brazilian foreign ministry described the visit by Rousseff to Cuba as "an opportunity to deepen ongoing dialog and bilateral cooperation, which have experienced significant advancement over the past few years."
Brazil and Cuba are members of the recently created Community of Latin American and Caribbean States (CELAC), a regional integration bloc that groups 33 nations. (Taken from RHC).