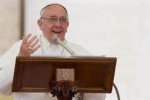 Pope Francis today called for peace and reconciliation in Ukraine where violent action from different groups have taken the country to a serious internal crisis.
During his Sunday mass the Pope asks the people present to pray for Ukraine where they are living a very dangerous situation.
He also mentioned that the different sides involved should overcome misunderstanding and find a peaceful solution so they can jointly build the future of the country.
Finally he requested the international community to support any initiative favoring negotiations and peace.