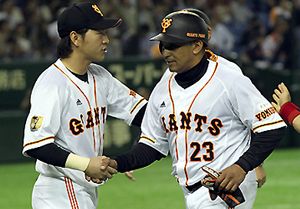 Cuban baseball player Frederich Cepeda premiered as 4th batter in the 4-11 defeat suffered by the Yomiuri Giants vs. the Tokyo Yakult Swallows in the Nippon Professional Baseball.
Sancti Spiritus athlete went for 3-1 (including a strike out and a walk), with one run brought in. The Kyojin decided to rush his climb due to the injury of Lesli Anderson.
Cuban Frederich Cepeda Trains at Giants Stadium (+photos)
Japanese Baseball: Cuban Frederich Cepeda Already a Yomiuri Giant (+photos)
The team's trainers were to determine if he was ready after watching him in action with the Ichi-gun, but the injury of Cepeda's compatriot Leslie Anderson caused him to set up as 4th man in the line up, second Cuban in history to do so.
Sancti Spiritus idol consumed his at bats in the 1st, 3rd, 5th and 7th innings, with a rolling to second base, a 1-RBI run, a walk and a strike out respectively.
Cepeda interacted with the media after his batting practice on Tuesday and said he felt good. He also praised the Giants' stadium and recognized the only expression he knew was Arigatogozaimasu (thank you very much).
Related articles across the web