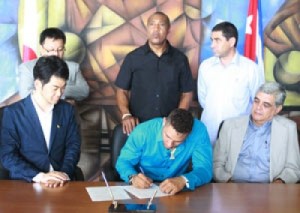 "I'm going to an experience I always wanted to live", the stellar Cuban baseball player Yulieski Gourriel Castillo said after signing with the Yokohama Dena Baystars from the Japanese Professional Baseball League.
Accompanied by his father, Lourdes, who played in that Asian country, the third baseman of Cuba national team, noted he will have to overcome obstacles like being far from his family and country for a long time, as well as the language, but he assured he will do his best.
That's the second best baseball in the world, demanding, where you have to play well to shine, he added.
Shun Kakazu, chief operating officer of the Japanese team, said that due to Yulieski's potential he could be playing regularly around second base, which does not mean he won't play, if necessary, in third base.
We have been seeing him for quite some ago, in the World Classics and more recently in March here, besides being a contact and power hitter, he is also fast in bases running, he fits perfectly to our team requirements, Kakazu told.
Antonio Castillo Macias, who valued the recruitment as transcendental, signed the document for the Cuban Federation.
Gourriel, first Cuban player to surpass the figure of 200 home runs only with wooden bat, will join Yokohama, club founded in 1950 that plays in the Central League, in about two weeks.
That franchise won the Japanese competition in 1960 and 1998; his president June Ikeda will come tomorrow to Havana to attend the Baseball Gala, scheduled for May 15 at Lázaro Peña Theater.
Thus, Gourriel Castillo joins his compatriot Frederich Cepeda, who was officially presented in Tokyo; he will use number 23, by the Yomiuri Giants.
Another Cuban playing right now on the outside, as result of contracts signed by the Cuban Federation and foreign franchises, is Alfredo Despaigne, who plays for the second consecutive season with the Campeche Pirates of the Mexican Professional Baseball League.