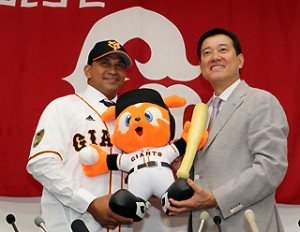 Cuban baseball player Frederich Cepeda, born to Sancti Spiritus province, was officially presented as member of the Yomiuri Giants, of the Nippon Professional Baseball (NPB).
Cuba: Fastballs for Frederich Cepeda in Online Interview (Photos)
Cepeda on the NPB: I have a lot of Expectations
Cepeda vs Japan: A Homerum that Made History (video)
After a trip of more than 21 hours, as announced by the Yomiuri Giants official website, Cuba's Frederich Cepeda was presented as member of the most renowned team of the NPB.
In the press conference, attended by the current manager of the squad, Tatsunori Hara, Sancti Spiritus outfielder expressed his willingness to help the Giants in every way possible, and his pride to be part of a team with such history.
As it was known during the presentation, the Cuban player will wear the number 23 in his new uniform.
At the meeting, the interest in expanding collaboration between Japan and Cuba was mentioned, especially in terms of exchanging athletes and coaches, and technology and information.