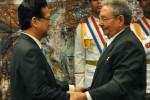 President Raul Castro bestowed the Order of Jose Marti upon Vietnamese Prime Minister Nguyen Tan Dung, who concludes an official visit to this country.
The Cuban Council of State granted Nguyen Tan Dung the highest decoration given by the nation during a ceremony held yesterday, attended by Vietnamese minister and deputy ministers, Cuban First Vice President Miguel Diaz-Canel, and other senior officials.
Council of State secretary Homero Acosta stressed that the prime minister of the Asian nation represents the deep feelings of friendship and solidarity joining Cuba and Vietnam, and described it as an example of dedication to the cause of his people.
The distinction also symbolizes a history of brotherhood that has gone beyond time, which has been marked by a common cause of struggle with similar objective, to build socialism and raise peoples' welfare, he said.
On the other hand, Nguyen Tan Dung highlighted the union of Cuba and Vietnam throughout more than 50 years under the common idea of building a socialist homeland, while expressed his commitment to continue working to strengthen the indestructible friendship between the two peoples.
After the ceremony, both sides signed two documents including the mid-term bilateral economic agenda, and the memorandum of understanding between the Ministries of Public Health of each country to cooperate in that sector.
The two-day official visit of the Vietnamese prime minister and his accompanying delegation concluded on Thursday, March 27.