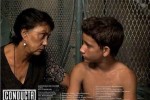 Cuban film Conducta, by Ernesto Daranas won the awards for best film, best director and best actress for Alina Rodriguez in the Latin American section of the Malaga Film Festival.
Conducta, which tells the story of a boy child of a drug-addicted mother and his relationship with the school, also won the Audience Award at the section formally named Latin American Territory.
The special jury prize for Latin American films was for Rincón de Darwin by Diego Fernandez Pujol (Uruguay-Portugal) starring Carlos Frasca who received the award for best actor.
The Golden Barrel Cactus was for "10,000 km," by Catalan Carlos Marques-Marcet, who also was awarded for best director and screenplay novel, while its star Natalia Tena won the best actress award.
The Special Jury Prize went to "Todos están muertos," by Spanish Beatriz Sanchis, a drama about the life of a pop star, which also won other awards, including the Best Original Score prize.