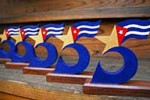 The International Committee for the Freedom of the Five has nominated the Cuban anti-terrorists for the Human Rights People's Choice Award 2014, which acknowledges the work of people or institutions in defense of human rights.
The organization said that it had nominated Gerardo Hernández, Fernando González, Ramón Labañino, Antonio Guerrero and René González, known internationally as the Cuban Five, because they fought to protect the Cuban people as well as citizens from the U.S. and other countries from terrorist violence.
They risked their lives to protect the lives of thousands. Instead of honoring them, the United States has sentenced them to long and unjust penalties.
In spite of that, the Cuban Five stand tall and face their sentences with dignity. This nomination is yet another way to make U.S citizens aware of the case, the organization added.
The Cuban Five were arrested while they were monitoring anti-Cuban groups based in Miami, whose actions have left more than 400 victims over the last 53 years in Cuba.
Gerardo, Antonio and Ramón remain in jail despite the international campaign for their immediate release.
René González was released on October 7th, 2011 after 13 years in prison, a period of supervised release and the renunciation of his US citizenship, while Fernando returned to the island last February 28th, after serving the final day of his sentence in an Arizona penitentiary in the United States.
The Committee has called on the international community to submit supporting votes for the nomination until March 21st.
The Human Rights People's Choice Award Contest is part of the annual award ceremony organized by the California-based social activists group Global Exchange since 2002.