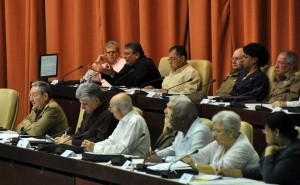 Cuba needs a direct foreign investment of about US$ 2.5 billion year to fund its socialist, prosperous, and sustainable socio-economic model, said Vice President of the Council of Ministers, Marino Murillo, this Saturday.
Murillo made his statement at the special session of Parliament, attended by Cuban President Raul Castro, in which the draft bill on foreign investment was brought into discussion.
Cuban Parliamentarians Select New Members of the State Council
He explained that over the last decade Cuba average growth rate is 1.8 percent and capital accumulation is 13 percent, lower than Latin America's. This shows the need for access to foreign capital, he insisted.
For this year, Cuba's growth plan is 2.2 percent, showing that while the economy grows, it does so at a rate that slows the development, Murillo said.
Murillo noted that the national economy requires an annual rate of between five and seven percent, and to achieve this, it is necessary to reach accumulation rates of 20-25 percent, through loans and foreign direct investment.
While foreign participation is seen as a complement to national investment effort in activities that are of interest to the country, the new law provides that foreign investment is relevant in specific sectors.
Livestock, dairy, agriculture and changing the energy matrix require strong foreign financing, Murillo said.
A good foreign investment does not mean giving away the country, he concluded
Cuba to Foster Foreign Investment, Regarding National Sovereignty
The Foreign Investment Law and its complementary regulations will attract foreign investments with clear rules and respect to sovereignty of the nation in mutual benefit, asserted today the Minister of Foreign Trade and Investment Rodrigo Malmierca.
Presenting the project of the new legislation to the parliament, Malmierca insisted that its purpose is to achieve a legal framework that will accompany and ensure foreign investment with full transparency, with the goal to develop national economy and a prosperous and sustainable society.
For that purpose the country will promote a portfolio of comprehensive projects that will yield productive linking with the purpose to revitalize the country, according to the guidelines of the updating of the economic and social model of the nation.
In his explanation he clarified that the bill has 34 general principles and 11 by sectors, which conceive foreign investment as an element to boost exports and substitution of imports and ensure efficient satisfaction of the country's needs.
Among its purposes are the modernization and creation of infrastructures, contribute to the change of energetic matrix through the use of renewable sources, food production, creation of jobs and raising managerial methods.
The Mincex minister clarified that the Cuban market will be granted no exclusivity as its foreign partner will have to operate on equal conditions with the national firms.
He also said that it will be directed to priority sectors such as agriculture and forest, wholesale trade, industries, tourism, construction, energy and mines and transportation, among others.
Warning on the elements that can stem the flow of foreign capital he mentioned the US economic, commercial and financial blockade, the internal debt situation, shortage of foreign currency and errors on the implementation of Law 77, still in force.
On this issue he alerted that is necessary to gain progress and economic and financial prestige so it is necessary to act with full transparency to attract foreign investment.
Among the principal modifications and benefits included he mentioned full protection and security to investor who could not be expropriated, except because of public utility or social interest previously stated by the Council of Ministers.
This will be done in respect to the Constitution, International treaties signed by Cuba and the legislation in force.