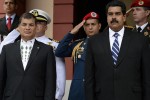 President of Venezuela Nicolas Maduro received Monday his Ecuadorian counterpart Rafael Correa at Miraflores Palace, in this capital where they will hold talks to assess the progress of bilateral cooperation projects.
After paying tribute to the deceased leader Hugo Chavez in the mausoleum that keeps his remains, Maduro welcomed Correa at the government headquarters and reported that there will be a sort of council of ministers to review common initiatives in trade, energy and culture
The goal "stressed the president-will be to ratify, consolidate and expand relations of brotherhood and unity between Venezuela and Ecuador".
In turn, Correa expressed the hope that joint projects will go forward starting from efficiency and effectiveness.
He stressed the need to defeat internal enemies such as conformism, inefficiency and corruption.
Also, the foreign president also dedicated words to praise Chavez who would have completed this Sunday 59 years of life. "Hugo was very necessary, but we have to continue. That is the best tribute", he said.