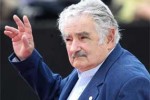 The President of the Oriental Republic of Uruguay, Jose Mujica, begins today an official visit to Cuba, to be run until July 27.
Mujica's agenda here includes a tribute to Cuban national hero Jose Marti at the Revolution Square, and to Uruguayan hero Jose Gervasio Artigas, at the Havana's Parque de la Fraternidad (Fraternity Park).
The head of state will also hold an interview with Carlos Miguel Gutierrez, president of the recently founded BioCubaFarma Company, to promote the production and marketing of products from the biotechnology and pharmaceutical industries of the country.
Mujica's visit takes place in a context of the friendly bilateral relations, following the restoration of diplomatic bonds in March 2005.
At present, the two countries develop cooperation programs mainly in political, diplomatic and health issues.
According to official figures, more than 45,000 Uruguayans have received health care in Cuba, as part of Operation Miracle program to restore or improve vision, boosteed by this Caribbean nation and Venezuela.
Uruguay, the second smallest country in South America, has maintained its position of condemning the U.S. blockade against Cuba for more than 50 years.