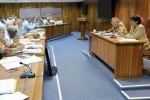 Cuban President Raul Castro said the country is making progresses and results are noticing, during a meeting with the Council of Ministers, Granma newspaper reported.
We move at a faster pace than what is imagined those who criticize our supposed slowness and ignore the difficulties we face, the president said during the meeting, held June 28.
Minister of Economy and Planning Adel Yzquierdo, who presented the report on the implementation of the Economy Plan at the end of 2013 first half, said the country considers a growth of the Gross Domestic Product (GDP) by 2.3 percent, two tenths higher than that registered in the same period last year.
Most of activities record increases, of them, trade, transport, communications and manufacturing are noted for their contribution to the GDP, the minister said.
According to Yzquierdo, social services are maintained at similar levels to those of 2012, and the rest of the economy grows by 2.9 percent, which is consistent with the policy of encouraging material production and ensure social services, as of greater efficiency.
For the end of the year, we expect a growth between 2.5 and three percent, below 3.6 percent forecast, in which the international environment in Latin America has also influenced, he added.
The minister stated that exports grow by more than five percent compared with the same period in 2012, while the country save $168 million USD in food imports, to achieve lower prices in purchasing many products.
Another issue discussed at the meeting was the failure in public transportation by bus, mainly caused by the deterioration of the technical condition of the equipment and insufficient management of the Ministry of Transport and the Provincial Offices to ensure timely the supply of parts and pieces.
It was also reported that investments and constructions were nine percent lower than planned, although it grows by 16.6 percent compared with the same period last year.
On the subject, Raul Castro reiterated the urgency of requiring absolute order in constructions. This is not to ban, but to build where conditions exist for it, he said.
On the other hand, Finance and Prices Minister Lina Pedraza stated that the State Budget closed with a slight surplus during the first half of the year.
The report of the State Budget for 2012 was approved by the members of the Council of Ministers to be submitted to the National People's Power Assembly. As a last item of the meeting, a result of the implementation in the last few months of the Guidelines approved by the 6th Congress of the Communist Party of Cuba was presented .