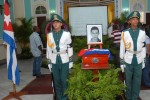 A crowd accompanied the funeral cortege of Jesus Cejas, a member of the Cuban diplomatic corps killed in Argentina in 1976, whose remains were buried at the martyrs' pantheon in Pinar del Rio.
Held captive at the illegal Automotores Orletti detention center, headquarters of Plan Condor, Jesus Cejas was tortured in that place along with his fellow countryman Crescencio Galañena, whose body was found last year in San Fernando locality, 28 kilometers from Buenos Aires, last year.
Their bodies were inside 200-liter-capacity barrels mixed with cement and lime, a method frequently used by the oppressors to hide the bodies.
Following nine years of investigations, started in 2004, a team of anthropologists found the Cejas's remains about 70 meters from the site where Crescencio's remains were found months ago.
That place is also nearby to the area where another 8 barrels with victims of the 1976-1983 Argentina dictatorship were found, as a result of previous investigations.
Cejas and Galañena were kidnapped on August 9, 1976, in the surroundings of the Cuban embassy in Argentina and it took more than 30 years to find their remains and send them to the Caribbean country.