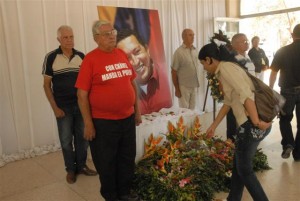 The tribute paid in Sancti Spiritus to the beloved Bolivarian leader Hugo Chavez, was concluded Thursday night after over 12-hour uninterrupted showings of support towards the late Venezuelan president.
The solemn ceremony closed with both the Cuban and Venezuelan national anthems, while the last honour guard was provided by top local authorities.
Sancti  Spiritus  Honors Chavez (+photos)
Sancti Spiritus Pays Posthumous Tribute to Hugo Chavez (+photos)
This March 7th, thousand local residents paid heartfelt and respectful tribute to Chavez, who has been already named as the second liberator of America.
Sancti Spiritus workers, students, retired people, children, and people of all ages and professions, reached the lobby of the Provincial Assembly of the People's Power headquarters, where a huge photo of Chavez was placed, escorted by the flags of Cuba and Venezuela.
[nggallery id=60]