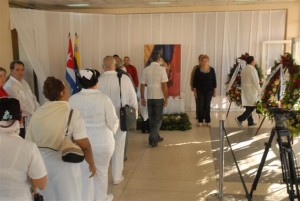 Thousand residents of Sancti Spiritus have been congregated since early this Thursday to pay heartfelt and respectful tribute to Commander President Hugo Chavez Frias, leader of the Bolivarian Revolution.
A huge photo of the dear friend, escorted by both the flags of Cuba and Venezuela, make up the solemn scenario in the lobby of the headquarters of the Provincial Assembly of the People's Power.
Posthumous Tribute to Hugo Chavez in Sancti Spiritus
The tribute ceremony was headed by Sancti Spiritus top authorities, members of grassroots organizations, local representatives to Parliament, along with several health and sport professionals who had worked in Venezuela in internationalist missions.
[nggallery id=60]