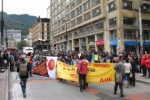 The Colombian government, represented by Vice President Angelino Garzón, and the striking farmers in the region of Catatumbo are expected to talk again this Sunday.
Amid great expectation, the parties will try to reach a preliminary agreement to check the month-long crisis in the department of Norte de Santander in the wake of protests by the farmers, who are tired of so many years of neglect.
Appointed by President Juan Manuel Santos to assume the negotiations after four failed talks, Garzon cleared the way yesterday for negotiations during an eight-hour long meeting with six spokespersons for the farmers he described as very positive, according to El Tiempo newspaper.
"We agreed on holding consultations. There is a good environment and readiness to find solutions to the problems," he said, describing dialogue as frank and open.
The declaration of a Farmer Reservation Zone, the issue of human rights and the gradual replacement of illicit crops are among topics to be discussed today, with important announcements expected in the afternoon to solve the protests.
The meeting in Tibu municipality, the epicenter of the protests, will be attended again by Todd Howland, representative of the UN High Commissioner for Human Rights in Colombia, a guarantor.
Todd have urged the parties to find a solution leading to the transformation and improvement of striking farmers in the region of Catatumbo.
Clashes between protesters and police have resulted in four civilians killed and more than 50 wounded.