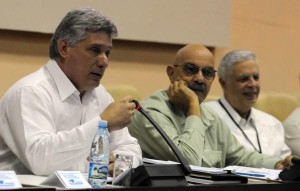 The Ninth Congress of the Union of Cuban Journalists (UPEC) ended Sunday in Havana with the approval of guiding documents and work projections for the next five years.
In the two-day event, opened yesterday at the Convention Center, delegates also paid tribute to National Hero Jose Marti and discussed the kind of organization the journalists need.
The book "Revolucion, Socialismo, Periodismo: La Prensa y los Periodistas Cubanos ante el Siglo XXI" (Revolution, Socialism, Journalism: Cuban Press and Journalists in the 21th Century) by late renowned professional Julio Garcia.
Yesterday, participants discussed the challenges facing their trade and agreed on the need to update their work and create conditions to improve it.
Most speakers referred to the kind of journalism Socialism needs in the current media scene, the professionalism and the limitations in the access to the sources of information.
In the Central Report to the meeting, the new President of UPEC, Antonio Molto, said that improving journalistic work and freeing it from obstacles to defend the Revolution better was the common factor in the process of assemblies leading to the congress.
A declaration calling journalists and organizations around the world to demand from US President Barack Obama to release four anti-terrorist Cuban fighters unfairly held in US prisons was also released.
Gerardo Hernandez, Ramon Labañino, Fernando Gonzalez and Antonio Guerrero, also known as The Cuban Five, were arrested in 1998 and given harsh sentences along with Rene Gonzalez for monitoring Miami-based terrorist groups operating against Cuba.
Rene Gonzalez is now in Cuba after serving his 12-year prison sentence. He had to give up his US citizenship as a precondition to return to his family in Cuba.