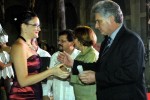 Cuban First Vice President Miguel Diaz-Canel chaired the ceremony of graduation at the Higher Institute of Industrial Design (ISDI) in Havana, local media reported on Saturday.
This year (the 25th graduation from the institute) 136 designers received their titles, including 68 who specialized in Design of Visual Communication and the rest in Industrial Design.
Rector Sergio Luis Peña said the graduates are professionals trained at a university in transformation.
"They are designers with trained minds, skillful hands, ready to work and to meet future challenges," he commented.
Graduate Rafael Jimenez referred to the need to raise people's awareness on the meaning and importance of design for the country at present.