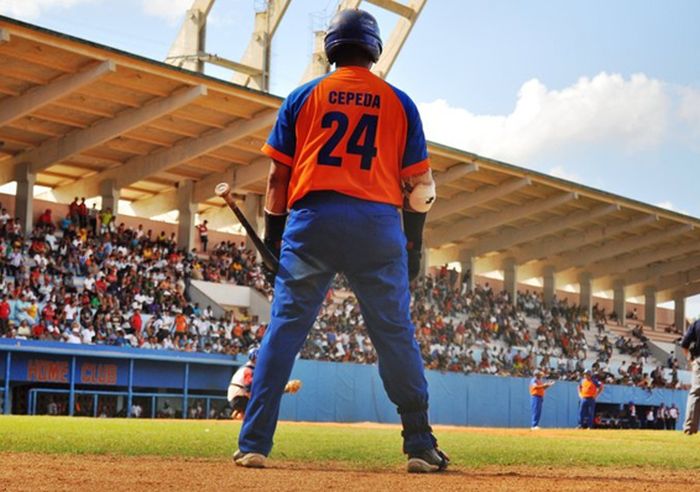 In an interview with Harold Iglesias Manresa, Carlos Martí, the Cuban manager to the Caribbean Series and the World Baseball Classic (WBC) referred to the possibility of counting with Sancti Spiritus baseball player Frederich Cepeda Cruz for the top international event of the year.
The Cuban outfielder, who underwent surgeries in his right knee and elbow in the past year, is the best national batter in WBCs with average of 449, 548 OBP, 855 SLU, and 1403 OPS, adding up the editions of 2006, 2009, 2013. He has also 31 hits, 15 EBHs, 23 RBIs and 17 runs
Carlos Martí, Cuban Manager to World Baseball Classic
Interview taken from CubaSi
WORLD BASEBALL CLASSIC: THAT'S ANOTHER STORY
Is this version different from the Cuban baseball team that will represent us in the 4th WBC?
The difference is huge. There are going to be several changes. We will look for a uniform team. We already know we cannot compare to top contenders in the competition.
I personally believe the central line is paramount. Having an outstanding defensive catcher like Frank Camilo Morejon and great defenders around the horn, provide you positive elements to back up your pitching".
Speaking of level, which are our strengths on the verge of these two competitions?
"Cuban baseball is recovering from the existing situation experienced after 3rd WBC. No one would dare to say our team is comparable to Japan, Dominican Republic, and South Korea. Nonetheless, we have a pretty good mix of young and veteran players. I believe that if we work together, we will be able to qualify to the next round."
Are you surprised with the decision?
"Oh, it was a very nice surprise. I have spent 46 years in baseball. It's a great responsibility."
Any players you never remove from your team?
It's a long list of players and I can pick much better now. There is time to focus on their virtues and flaws. The best example is Cepeda. If he is healthy, he will be important. He is the best Cuban hitter in international events and you can't ignore that. Alarcon is another player with several positive characteristics. He is fast, decent power and contact hitter."
What is the difference between Granma and Team Cuba?
Granma: the fighting spirit and the will to play better. We are united and our goal is to play good baseball. Luckily, we may bring all of these together to the Classic. Our pool is tough. Japan will be solid. Australia has always played well against us in the main tournaments of this century so far and China is the weakest team, apparently. Our goal is to advance and to do so, we must win the Aussies and China. We have eleven friendly games before the competition".
Why Cuba's play level was so poor in the last edition of the Classic?
"I was not part of that coaching staff. I was member of the Commission as Technical Commissioner. It is hard. We had few friendly games of high level. We were not in good shape to face such a high-level baseball and the performance was obviously unsatisfactory."
So it ended our talk with experienced manager Carlos Marti who suddenly returned to the field of Latinoamericano Stadium to check the second day of training of Cuban players.
Translated by Sergio A. Paneque Diaz / Cubasi Translation Staff