Should the Manager of the Year Award exist in Cuba, the unanimous vote of the present season would go to Carlos Martí, the leader of the surprising Granma Alazanes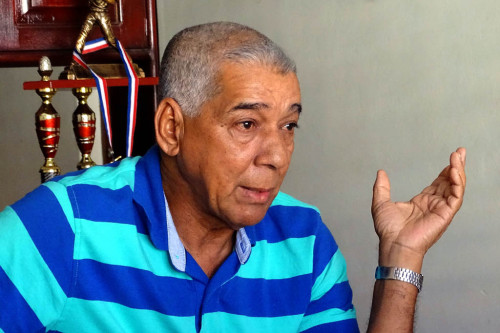 Carlos Martí Santos, the leader of the current champions of Cuban baseball, Granma Alazanes, leads team Cuba to the most important international events of 2017: the Caribbean Series and the World Baseball ClassicIn an interview with Raico Martín, the manager deals with the current situation of Cuban baseball, the reinforcement players, the limitation of throws and some other important aspects. Here's a translation fragment of that interview:
Martí acknowledges this is one of the two most important moments in his career as manager. He even compares it to the triumph obtained by Orientales team, in the 7th Serie Selectiva (1981), when, in his own words, "Cuban baseball had an extraordinary quality".
—How did all begin?
I've always been in love with baseball, and I've been lucky enough to assume many responsibilities within a team. I'm really grateful to the sport and I think that from that generation formed at Manuel Fajardo Higher Institute of Physical Education, which included Jorge Fuentes, Serbio Borges, and some others, I'm the only one still working.
—What is the secret to pull the strings of a team?
—The only secret I have is hard work, effort, and passion. I graduated in 1970 and I started working as manager in the old province of Oriente and those elements are essential in my strategy. It's been almost 37 years and I'm always willing to help in any way I can.
—On the issue of reinforcement players, how do you like the idea?
—Honestly, I don't like it. If I had it my way, I'd organize a National Series with all teams, but I'd add another tournament to concentrate quality, like the former Selectivas, with the best players of the country. From four to six teams may take part in the event, with a privileged attention.
"Of course, I can't deny that reinforcement players helped considerably to get this result. Miguel Lahera, Denis Laza, Frank Camilo Morejón, Yunior Paumier, Noelvis Entena, Yordan Manduley…they all incorporated quickly to the team's dynamics".
—It is pitching the lowest point in many of the teams, why?
—I don't agree with limiting pitches. Current Cuban pitching does not show a great quality. If you add up the limitations to throws, hurlers don't develop because they already know when they will work and when they will rest. Long ago, that didn't occur. Pitching was based on game situations, and pitchers worked perfectly every four days.
—How much do you trust players?
—As a manager it is important to know which player is under pressure, which hurler is doing ok and which one is not. Sometimes trust doesn't pay well but I think the players deserve it. The athletes are the ones who play on the field, and it is important to belief in them so they can develop their skills. That's why I only like to change what's necessary. I tried that my lines-up are stable.
—As a manager, what are your qualifications?
—It's very difficult to talk about myself. I think that being persistent and demanding are the two key characteristics. When it comes to discipline, I mean, conscious discipline, not forced. It is imperative that the players know what is the goal and how important is discipline to succeed. Those are the main reasons behind the good results obtained.
—What is your opinion about Cuban baseball?
—Cuban baseball is not in a good place now. Some changes to improve its level need to be carried out. I'd love a tournament with more quality. However, transformations must start at the base. We need to play more baseball.
—How would you like to be remembered?
—As a man who fell in love with baseball and lived for baseball.
Taken from CuBaseball