Alaska Airlines is the last to begin regular flights to the Caribbean island out of the eight authorized to do so by the government of President Barack Obama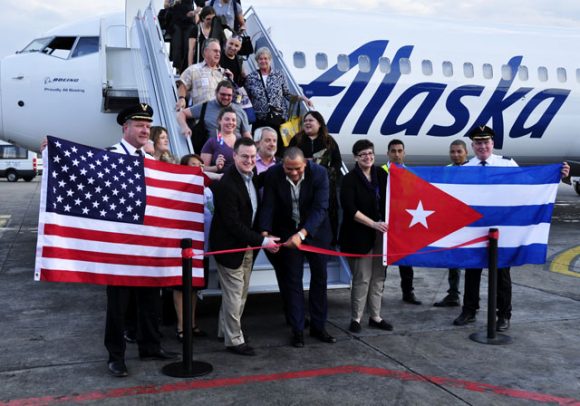 The American company Alaska Air Group began commercial flights to Cuba with the transfer of about 170 passengers from Los Angeles to Havana.
Speaking to Prensa Latina, the General Director of Alaska for Mexico and Costa Rica, Francisco Albiter, said on Thursday that for the company is 'very exciting' the opening of its services in Cuba, which for the moment contemplate a daily flight of Round trip between LA and Havana.
For the first time, the company establishes air ties with this Caribbean nation, following the permits signed by the government of President Barack Obama to eight airlines, as the economic, commercial and financial blockade continues against the West Indies.
According to Albiter, there is a significant potential market, bearing in mind that in Los Angeles and the coastal zone of the American West lies the third largest population of Cuban-Americans, as well as many Americans interested in cultural ties with Cuba.
So far, there was no direct commercial air link between the western United States and this Caribbean archipelago, so passengers had to make different combinations to get here, he said.
In the operations with Havana, we will use airplanes 737-900ER, a new and modern equipment, he explained.
According to Albiter, the reaction of the public has been very favorable, 'above expectations': we have sold 80 percent of tickets to Havana for the next three months, he said.
Such a high percentage is unusual for the start of a new offer, especially to a country where we had no presence, he said.
So far, Alaska has not planned to fly to other Cuban cities, because in this initial phase we are interested in familiarizing ourselves with the airline infrastructure in the country and deepening knowledge about the services provided by suppliers, he replied.
In addition, the company intends to ensure its quality standards here, in correspondence with the JD Power award, earned during nine consecutive years in the United States for service excellence, he said.
The inaugural flight of this Thursday was received by the general director of the international airport José Martí, Juan Carlos Quintana, who stressed in dialogue with the press the growing arrival of foreign visitors.
In 2016, the facility recorded a record passenger movement totaling about 5.3 million in outbound and inbound flights, he said.