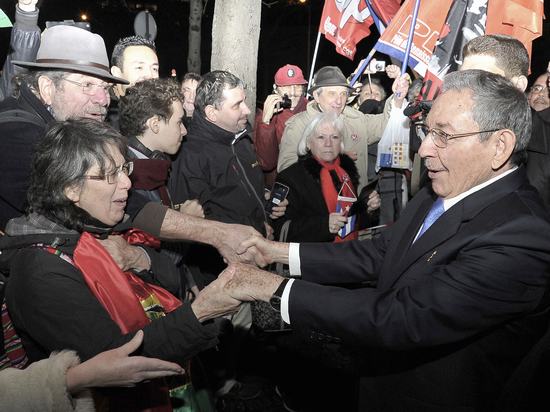 Cuban President, Raul Castro, described as successful the State visit he carried out to France. He complied with a busy agenda during his two-day visit, during which bilateral relations were promoted
During a meeting with the group of the Embassy, the UNESCO Mission, and representatives of the island's agencies present in the French nation, the president referred to the importance of the result of the negotiations with the Paris Club on the Cuban debt.
Raul Castro Meets with UNESCO Director General Irina Bokova
France Emphasizes Need to End U.S. Blockade on Cuba
France and Cuba Reaffirm Willingness to Strengthen Bilateral Relation
Raul Castro complied with a busy agenda during his two-day visit, whose official program ended yesterday night, during which bilateral relations were promoted.
We open today a new page in the ties between both countries, Hollande said during a joint statement from the Elysee Palace.
He referred to the signing of a bilateral economic agenda in sectors such as tourism and transport, while he pointed that the French nation is among the island's major trading partners.
The head of State stressed that all this was made possible due to the agreement reached on Dec. 12 between the Caribbean island and the Paris Club, concerning the treatment of the Cuban debt.
On the other hand, Raul Castro stressed that both countries are linked by historical and cultural ties, and deep bonds of friendships.
This is the first State visit of a Cuban president to France and to a country member of the European Union. This visit reaffirms the excellent state of relations, and reflects the shared desire to strengthen political dialogue at the highest level, he said.
He stated that the signed bilateral economic agenda represents an important joint mechanism for the production, monitoring and promotion of the trade economic ties of cooperation and investment, even at mid and long term.
Other instruments of bilateral cooperation in many sectors were signed.
Among the agreements he highlighted one relating to the treatment of the island's debt, which was preceded by an agreement on such subject reached on Dec. 12 between the Caribbean nation and the Paris Club.
The two sides also signed two declarations of intent. The former concerns cooperation in tourism, and the latter concerns the development of fair trade.
The signing of a declaration of cooperation between the Cuban Ministry of Foreign Trade and Foreign Investment and the French Development Agency, on negotiations for the establishment and activities of the Agency in the island, was also revealed.