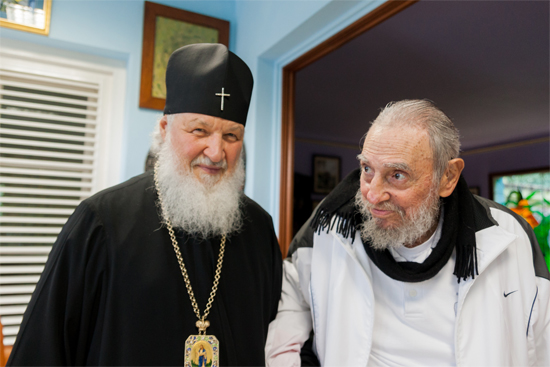 The Patriarch of Moscow and All Russia, His Holiness Kirill, paid a courtesy visit to the leader of the Cuban Revolution, Fidel Castro, on the penultimate day of his official visit to Cuba.
According to a statement, the meeting between them took place in the afternoon, yesterday. Fidel Castro had words of recognition for the leader of the Russian Orthodox Church because of his important contribution to the strengthening of friendship between the Russian and Cuban peoples and the dissemination of values uniting them.
Cuba President Raul Castro Bids Farewell to Patriarch Kirill
They also talked about issues of concern related to the cause of the poor, the struggle against discrimination, the preservation of peace and human survival.
They commented on the good relations between Russia and Cuba, based on deep feelings and friendship bonds.
The dialogue took place in a relaxed atmosphere, of respect and agreement on the issues discussed.
Kirill will leave Cuba today to continue a Latin American tour that will take him to Paraguay for a pastoral visit beginning tomorrow.
During his stay in this Caribbean country, Kirill had an unprecedented meeting with Pope Francis in the protocol lounge at the José Martí International Airport in Havana.
The significance of this meeting is that took place for the first time since the schism of 1054, which sharpened the contradictions between Catholics and Orthodox. The leaders of the two churches with the largest number of faithful in the Christian world gathered.
Kirill, enthroned as Patriarch of the Russian Orthodox Church in 2009, and Francis, elected Bishop of Rome in 2013, talked for several hours about the relations between the two religious entities and the international situation.